Academic Faculty Interviews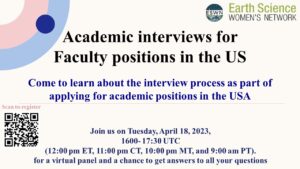 Are you considering applying for a faculty position in the USA? Are you curious about what the interview process may contain?
The Earth Science Women's Network will be hosting a webinar on April 18, 2022, at 12:00 Eastern Time (16:00 UTC) to help you prepare for the interview part of the academic application process. A panel of Assistant/Associate professors within multiple earth science disciplines will share their experience and "lessons learned", and answer your questions. This workshop is geared towards graduate students and post-docs considering an academic career in the USA.
We will be joined by:
Courtney Hatch (Associate Professor at Hendrix College)
Rachel Bernard (Assistant Professor at Amherst College)
Gaia Stucky de Quay (Assistant Professor, MIT)
Jessica Haskins (Assistant Professor, University of Utah)
All parts of this workshop (except the breakout rooms) will be recorded. A link will be made available to participants after the workshop.
We are excited for you to join us! Register here: https://forms.gle/rcWPtxA8BUQh6HnS6
If you have any questions please contact us via [email protected]
Best wishes,
The Earth Science Women's Network Member Events Committee