AGU blog celebrates Women's History Month and ESWN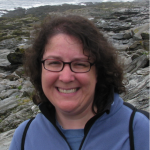 ESWN member Laura Guertin, a blogger for AGU, recently featured ESWN in her post celebrating Women's History Month.
"For the month of March, in honor of Women's History Month, I am dedicating my weekly blog posts to the outstanding organizations, resources, and inspiring stories about women in STEM.
I can't think of a better way to kick off Women's History Month than to celebrate the incredible impact the Earth Science Women's Network (ESWN) has made on the careers of over 2,000 female students, faculty, and researchers across the globe."
Check out the full article here.