Leadership Skills for Success in the Scientific Workforce
Please see the 2019 Workshop Agenda here!
October 28th – October 30th, 2018 | Boulder, Colorado
Why leadership and management skills? Science is rarely done in isolation; in almost any position, leadership and management skills are an important contributor to success. Yet, these  skills are seldom discussed as part of an academic education, and hardly, if ever, show up in professional trainings for scientists. This workshop is designed to give you techniques to grow your skills in leadership and management. Topics to be emphasized include: understanding your own strengths and weaknesses, strategies for effective communication with your scientific team (peers, colleagues, employees, students, bosses, administrators, etc), team building in a way that promotes motivation and trust, guidance in giving and receiving both positive and negative feedback, articulating your personal value and negotiation strategies.
Tentative agenda
The workshop will begin with a session from 3-6pm on Sunday, October 28. Sunday afternoon and all day Monday (~9-5pm) will be facilitated by Chris Olex, a professional facilitator and trainer specializing in team and personal development. We will assess our leadership style within the context of the DISC profile (see below).  Are we task oriented or people oriented?  Are we outgoing or reserved and how does that influence our ability to communicate with people?  What frustrates us when working with other people?  Why do others respond the way they do to frustrations in the workplace and how can I modify that response for more effective communication?  Each participant will receive an individualized breakdown of her characteristics related to DISC (Dominance, Influence, Steadiness, Conscientious). Focus is placed on each participant understanding her style, her impact, her motivation, and her story.  Participants will also work collaboratively to produce a comprehensive list of what makes a good leader. A networking reception on Monday evening (~6-8pm) will give participants a chance to practice their networking skills and gain knowledge about different types of leadership positions through discussions with representatives from local scientific organizations. Tuesday will focus on the details of your impact, allowing you to define concrete goals, gain confidence in your negotiation style and identify and articulate your personal value. Tuesday will also include a panel discussion with leaders from local scientific organizations, including time for Q&A with the audience.
Sunday, October 28.  3:00 – 6:00 pm (including coffee/tea and snacks)
Location: University of Colorado, Boulder at University Memorial Center
Welcome, Introductions
Uncover your personality style using the DISC Personality Assessment Review
Monday, October 29. 9:00 am – 5:00 pm (including coffee/snack breaks and lunch)
Location: UCAR Center Green Campus
Understanding Your Style, Your Impact, Your Motivation, Your Leadership
Discover more about emotional intelligence and its impact on your leadership

Learn more about the effects of unconscious bias and what we can do about it

Explore positive aspects of giving and receiving feedback

Discuss skills to becoming a more effective mentor
Monday, October 29. ~6:00 pm – 8:00 pm (including coffee/snack breaks and lunch)
Location: UCAR Center Green Campus
Evening Networking Reception with representatives from local scientific organizations
Tuesday, October 30.  9:00 am – 3:00 pm (including morning coffee/snacks and lunch)
Location: UCAR Center Green Campus
AAUW Work Smart on Salary Negotiation, Career Counseling, Goal Setting
Lunchtime Careers Panel with scientists in leadership positions
Goal Setting and Active Listening exercises (will end workshop by 3pm)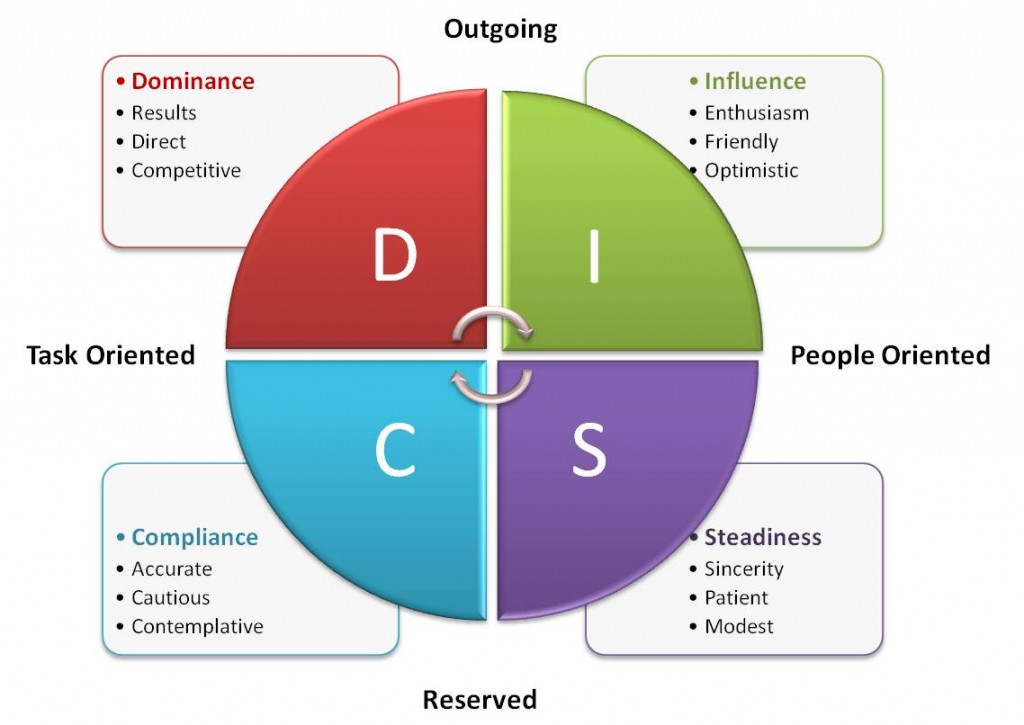 (figure from: http://www.careerminds.com/blog/the-disc-assessment-the-job-seeker.html)