Dr. Delia Santiago-Materese is a planetary scientist at NASA.  She began her career at NASA Ames Research Center soon after undergraduate, and her work at NASA has included supporting shuttle payloads, developing partnerships and collaborations with organizations outside of NASA, conducting planetary science research, and as of late, supporting research at the programmatic level.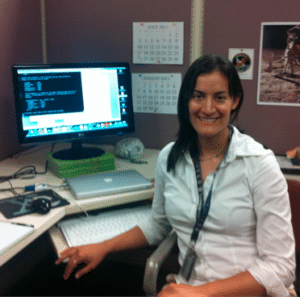 Delia earned her B.S. in Biological Sciences at Stanford University, during which time she took a course in Astrobiology, which was loosely defined at the time and incorporated all sorts of space biology, exobiology, and human factors topics.  She then worked for a short period at the San Francisco Zoo as she contemplated becoming a veterinarian versus the life of science.  Science won out, and she began a career at NASA Ames Research Center as a contractor, supporting life science payloads for the shuttle program.  Delia soon realized that she had a greater interest in the destinations that NASA studied and decided to pursue a graduate degree studying planetary science, earning a M.S. in Earth Sciences, taking a break to work on some exciting projects at NASA, and then completing her Ph.D. in Earth Sciences in 2016 (a lot of great planetary research happens in Earth Science and Geology departments!)  During her break from research, Delia had the opportunity to work for one of NASA's virtual institutes and contributed to international partnership development, collaboration technology usage by scientists, and early social media presences by NASA.  Her doctoral work, which was done as part of a work-study program with NASA, combined laboratory and computer modeling work to understand water ice cloud microphysics on Mars.  Her main focus was using salts as water ice nucleating particles under Mars atmospheric conditions. She enjoyed the hands-on nature of laboratory work, which included using a high vacuum apparatus and an FTIR spectrometer.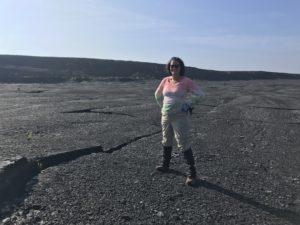 Since earning her Ph.D., her scientific interests include analog science operation work, detecting organics using infrared spectroscopy, and developing new life-detection concepts.  In late 2018, Delia began a detail at NASA Headquarters in Washington, D.C., in the Planetary Science Division, which is part of the Science Mission Directorate.  She is supporting the Planetary Research and Analysis group as a Program Officer, which involves managing a large grant program.  Every day involves different things, from organizing review panels, managing research funds once awarded, dealing with problems, etc.  This job requires being very organized, having great communication skills, and jumping in and dealing with new issues as they come.  She loves being able to use past experiences, acquired knowledge, and connections from over the years to make a research program run smoothly.  Delia loves working with people and finding new ways to do things better.  It is gratifying to be one piece in the bigger picture of what NASA does and to interact with amazing people doing exciting science, and sharing in that passion for the work.
She advises young people exploring science to try as many different things as possible early on, to share your desired professional interests with others, and to find people who enthusiastically support you.  It is a lot of hard work to succeed science, so make sure you enjoy it!  The people you work with can be just as important as the work you do (if not more so), so pay attention to your gut and finding the right fit.  Perseverance is important, but also remember your worth and do not stay in a negative situation too long since there are always other good opportunities out there!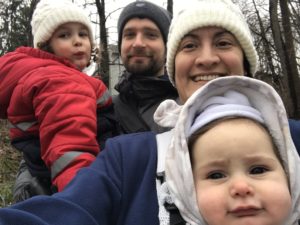 Outside of her professional life, Delia enjoys spending time with her family, including her husband and two young daughters.  One of her proudest accomplishments in her career was defending her doctoral thesis when her oldest daughter was seven months old.  She enjoys cooking, being outside, and being silly with her family.