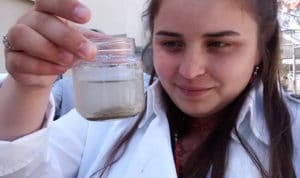 Dieuwertje Kast is the STEM Programs Manager for the University of Southern California's (USC) Joint Educational Project. She has provided STEM instruction to over 23,000 underrepresented minority students, 600 educators, 20 school principals, and countless community members. She coordinates supplemental science lessons for K-5 across a gamut of schools through the Wonderkids and Young Scientists Programs.
Wonderkids is an after-school, hands-on informal Science, Technology, Engineering, Arts, and Mathematics (STEAM) education program that serves first through third-grade students in participating Los Angeles area schools. The program exposes children to advanced scientific concepts at an early age and introduces them to professionals in specific STEAM fields.  This offers socially and culturally diverse role models in science with the ultimate goal of encouraging these students to pursue their own scientific education and endeavors. The Young Scientists Program (YSP) is an inquiry-based, hands-on STEAM educational outreach program. The program aims to address a lack of science education in partner schools by recruiting STEAM undergraduate and graduate students to serve as Teaching Assistants (TAs) who help bring scientific laboratory experiences directly to students and their teachers, with the goal of supplementing current science instruction, complimenting science learning standards, strengthening science literacy, and promoting interest in scientific careers.
DJ also teaches science classes to high school students through USC's Neighborhood Academic Initiative, a college preparatory program for low-income youth. She has presented dozens of STEM and next-generation science standards (NGSS)-based professional development sessions to educators in schools and at local, national and international conferences. She is a marine biology instructor for the Ernest Everett Just Youth Science Program, which is designed to expose minority students to STEM careers and academic pursuits and is dedicated to Dr. Ernest Everett Just, a pioneering African American biologist, who received international acclaim for work in marine biology. Dieuwertje's educational philosophy is focused on hands-on, inquiry-based and authentic STEM learning experiences. This passion for STEM education is reflected not only in her work but also with her science-themed wardrobe that she wears to all her teaching and community events.
She is a current doctoral student in Education, focusing on Teacher Education in Multicultural Societies (TEMS) in STEM at USC, exploring the technological pedagogical and content knowledge (TPACK) of STEM content for elementary educators.  Her mixed methods research uses a quantitative assessment of educational preparatory programs with underlying themes such as technology integration and STEM content, and will finish with interviews of select pre-service educators to generate a personal narrative parallel to the quantitative themes.
DJ received her Bachelors of Science in Biology, Masters in Science in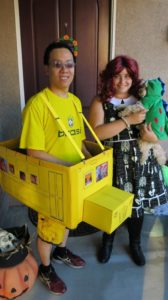 Marine Environmental Biology in 2011, and her Masters in Arts and Teaching with Single Subject Science credential in 2014. In 2016 she was the recipient of the Forbes 30 under 30 in Science, and the 30 under 30 in Environmental Education from the North American Association for Environmental Education for her community work to level the playing field in STEM for thousands of low-income students of color. Other recent awards include the International STEM Education Association Mike Neden STEM Champion Award, the National Association of Geoscience Teachers Outstanding Earth Science Teacher Award, and eSTEM News' Distinguished Innovator Award. She continues to work with numerous environmental education programs, such as the School of Rock, NOAA Teacher at Sea, NOAA Climate Stewards Education Program, Ocean Exploration Trust, and PolarTREC. Her mission is to level the playing field for underserved students in STEM by facilitating STEM programming that will create a more diverse generation of scientists and a more scientifically literate population.