Erika Amir-Lin is a geologist with 15 years of varied workforce experience in the earth sciences.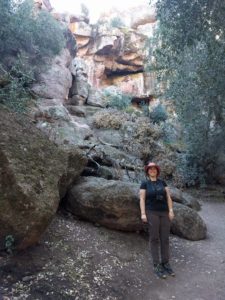 She is a licensed professional geologist in the state of New Hampshire, and currently works as a hydrogeologist at AECOM  in Chelmsford, Massachusetts.  In her current position she works with municipal clients in Massachusetts and New Hampshire; assisting them in finding and developing new drinking water sources, maintaining existing drinking water wells, and advising on sustainable use of their limited water resources.  Previously in her career Erika worked variously doing contaminated site remediation, pre-construction geotechnical investigations, and was a seismic hazards educator for the USGS in Menlo Park. Erika loves sharing the wonders and weirdness of earth science with the public and most recently was a 2017 Fellow in the Discovery Museum's Science and Engineering Communication Fellows program.
In 2018, inspired by the water governance issues she saw her clients grappling with and frustrated with the water issues in her own town, Erika ran for one of the three Water Commissioner seats at the Acton Water District and was elected, defeating a 33-year incumbent. She is the first woman commissioner in the 107-year history of the district! And just in case that wasn't enough water politics, Erika also serves as the President of the Board (known by the rest of the board as the Queen of Poop) of the Nagog Treatment Facility, a small wastewater treatment plant in north Acton, MA.
After a difficult initial experience in graduate school several years ago, Erika is currently finishing a Master's degree in Environmental Geoscience at University of Massachusetts Lowell. Online friends and colleagues, including on Twitter and ESWN, were essential sources of support, encouragement, and healing during the post-grad school process and eventual re-entry. Erika is a strong believer in the power of inclusive networks and is committed to helping the organizations she's involved in become fully supportive of ALL their members. As a queer scientist who isn't read as out at work, Erika channeled her feelings of invisibility into organizing the first annual LGBTQ social hour at the GSA Northeast Section meeting in March 2019. Attended by more than 20 people including students, working professionals, and professors, the meetup was a huge success and all the attendees asked for it to be repeated at future section meetings.
While Erika's actual favorite hobby is catching up on sleep, she also likes reading romance novels, working on jigsaw puzzles with her spouse, and cooking complicated recipes for the first time.