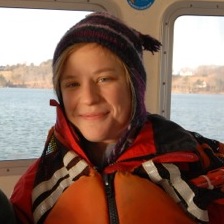 Skylar Bayer is in her second year of her Ph.D. in Marine Biology in the School of Marine Sciences at the University of Maine. Her work focuses on the reproductive ecology of invertebrates, particularly that of the scallop fishery. She collaborates with Maine fishermen to help. Since her undergraduate years at Brown University, she has researched a spectrum of ecological and oceanographic topics from arctic tundra climate change, to oceanographic distribution of organisms across the Central Pacific Ocean, to her M.Sc. research on deep-sea hydrothermal vent ecology at Woods Hole Oceanographic Institution.
She believes passionately in improving communication skills between scientists and the general public. As part of this effort, she started the blog www.strictlyfishwrap.com in 2012 dedicated to having young scientists, particularly graduate students, practice writing about their lives as scientists. It is through this blog that The Colbert Report contacted her regarding the story of the "Missing Scallop Guts" that made Associated Press Headlines in November 2012. The contact resulted in the below segment The Enemy Within – Dr. Skylar Bayer that features the fishermen Andy May she collaborates with as well as Professor Gail Garthwait, the discovered of the missing guts. Although she does not promise everyone will get discovered through STRICTLYFISHWRAP, she is always looking for more contributors.
In addition to science and writing, Skylar loves to travel, read, practice the martial arts of Brazilian Jiu Jitsu, Muay Thai kickboxing, Mixed Martial Arts, and both build and sail boats. She also joined the women's roller derby team, Rock Coast Rollers – a great, positive community of both men and women in Mid-Coast Maine.