ESWN Events at AGU Fall Meeting 2016
If you'll be attending the AGU Fall Meeting, check out ESWN's many exciting events! These events (hosted or co-sponsored by ESWN) offer our members and colleagues the opportunity to see old friends and make new connections. ESWN works to amplify the benefits of AGU, especially for women and early-career scientists. Stay tuned for updates and more information! We look forward to seeing you in San Francisco!
Thank you to the generous sponsors of ESWN's activities at AGU!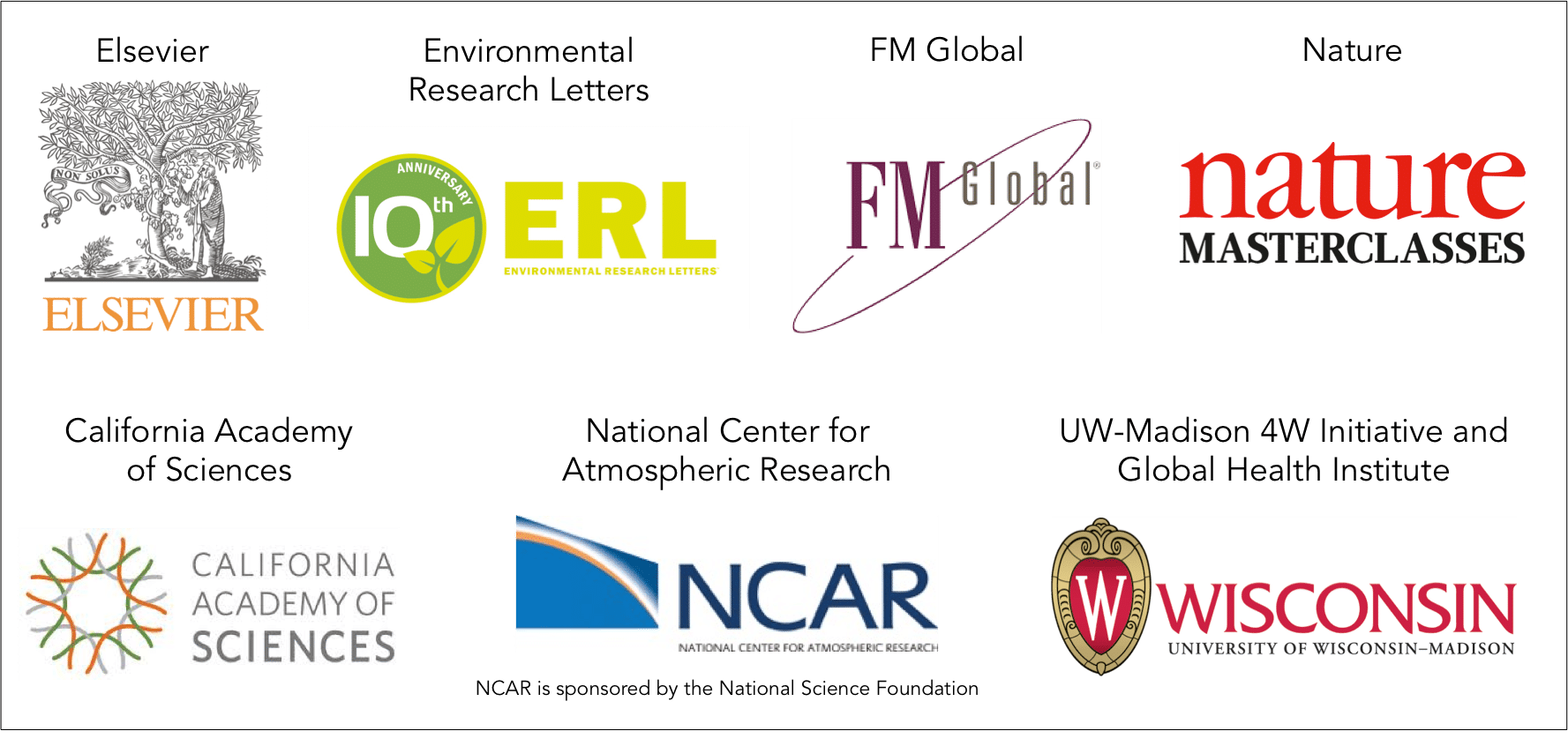 Tour of the California Academy of Sciences
Sunday, December 11, 2:00 – 5:00 PM
California Academy of Sciences
Join ESWN for an exciting tour of CAS, a leading planetarium, aquarium, and natural history museum all in one! Our tour will be personally led by Executive Director Dr. Jon Foley! Learn more about this incredible opportunity here.
Monday, December 12, 12:30 PM – 1:30 PM
Moscone West, 2016
The geoscience workforce is one of the least diverse, despite its importance to understanding our planet's past, present, and future. The goals of this town hall are (1) to highlight successful programs for attracting and advancing historically-underrepresented earth scientists at multiple career stages, and (2) with audience participation, identify strategies that AGU and its members can enact to broaden the participation of a diverse membership and workforce. Target audience: supervisors, heads/chairs, and anybody interested in a more inclusive earth science community. Sponsored by Earth Science Women's Network, Association for Women Geoscientists (AWG), National Association of Black Geoscientists (NABG) and AGU.
Speakers:
Aisha Renee Morris, UNAVCO, Inc. Boulder
Seti Sidharta, Contra Costa College
Robert C Liebermann, Stony Brook University,
Ashanti Johnson, University of Texas at Arlington,
Melissa A Burt, Colorado State University
ESWN Networking Reception
Monday, December 12, 6:00 PM – 8:00 PM
The Children's Creativity Museum Imagination Lab
ESWN's signature annual event will be a great opportunity to meet colleagues and make new friends during the first day of the sessions! FREE, all are welcome, appetizers and cash bar.
Tuesday, December 13, 1:00 PM – 3:00 PM
San Francisco Marriott Marquis- Golden Gate C1
Verbal and other exchanges in the workplace and education arenas are necessary but sometimes misinformed, misunderstood, misinterpreted, and/or inappropriate. This workshop will present several scenarios of actual events (with all names and locations removed), and ask workshop participants to discuss their interpretations of the events. The goals of the workshop are to 1) inform participants and workshop leaders of the possible wide variety of opinions about these events, 2) foster greater understanding of what harassment is and let participants "practice" their personal responses, and 3) encourage future conversations and interventions, should participants witness similar events. ESWN is co-sponsoring this workshop with the Association for Women Geoscientists (AWG), AGU, Society of Exploration Geophysicists Women's Network Committee (SEG – WNC), American Association of Petroleum Geologists Professional Women in Earth Sciences (AAPG-PROWESS), University of Kansas, the Geology Associates Fund of the University of Kansas Endowment Association, and UCAR.
Tuesday, December 13, 6:00 PM ­– 8:00 PM
San Francisco Marriott Marquis- Golden Gate B
Network with your peers at this event made especially for early career female scientists and students. Not-so-early-career women are also welcome! This event is FREE and does not require a ticket. Light refreshments will be served. This event is co-hosted by AGU, ESWN and AWG.
Wednesday, December 14, 9:00 AM – 12:00 PM
San Francisco Marriott Marquis – Golden Gate A
How do you make your proposal as NSF-savvy as possible? How do you best describe your broader impacts? How can you design effective integrated research? How do you identify the best program for application? What new initiatives are early career scientists eligible for at NSF? What constitutes an effective review and how are reviews considered in funding decisions? Answer these questions and meet with Program Officers at this workshop, open to all AGU Fall Meeting attendees. Come and go as you need! The workshop will feature presentations and panels from ~900-1000h on effective reviews and how they are used in funding decisions; ~1000-1100h on specific NSF opportunities for early career scientists; ~1100-1200 one-on-one or small group meetings with Program Officers from across the geosciences directorate (e.g. PLR, OCE, EAR, AGS). This workshop with NSF program officers will be particularly helpful to early-career and mid-career participants, especially graduate students, post-docs, researchers, and tenure-track faculty thinking about applying for NSF funding for the first time. FREE and open to all AGU Fall meeting attendees through a partnership of the Earth Science Women's Network and AGU.
Wednesday, December 14, 2:00 – 4:00 PM
San Francisco Marriott Marquis – Golden Gate A
Publishing research is essential to building a scientific career – what strategies best support your scientific productivity and career success? This panel will provide an overview of journal publication strategies, the role of non-traditional outreach platforms, and Q&A time with attendees. With a panel of experts, we will discuss solutions to conundrums facing scientists in the publishing process, with a focus on early-career scientists. How do you decide what journal to submit to? What are the best strategies for responding to reviewer comments – especially if you disagree? Does the choice of journal affect the design of a study? How do blogs, Twitter, and videos change the nature of scientific publishing? FREE and open to all AGU Fall meeting attendees through a partnership of the Earth Science Women's Network and AGU.
Wednesday, December 14, 4:00 – 6:00 PM
San Francisco Marriott Marquis – Golden Gate A
This workshop will discuss practical skills for making the transition to successful post-graduate careers in policy, federal research labs, state agencies, NGOs, industry, and private enterprise and is geared towards graduate students and post-docs who are considering options outside of academia, as well as faculty who are interested. FREE and open to all AGU Fall meeting attendees through a partnership of the Earth Science Women's Network and AGU.
Confirmed panelists:
Melanie Harrison Okoro, environmental scientist at U.S. National Oceanic and Atmospheric Administration in the National Marine Fisheries Service
Melanie Mayes, senior staff scientist and team leader, Oak Ridge National Laboratory
Dawn Wright, chief scientist at ESRI
Yolanda Shea, physical scientist at NASA Langley Research Center
Teamrat A. Ghezzehei, associate professor at UC Merced, former scientist at Lawrence Berkeley National Laboratory
Julia Rosen, freelance science journalist
Matt Coleman, portfolio analyst at Nephilia Advisors, LLC
Zhao Liu, senior research scientist at FM Global
Mika McKinnon, freelance science writer
Nadine Schneider, research coordinator at the Excellence Cluster CliSAP in Hamburg
Idalia Perez, scientist, U.S. Environmental Protection Agency
Town Hall:
Awards & Grants – Advancing Your Early Earth Science Career: Multi-agency Perspectives
Thursday, December 15, 18:15 PM – 19:15 PM
Moscone West, 2020
Career development and success in science is achieved with early knowledge & skills to navigate pathways to successful grants & awards. This town hall will help graduate students & scientists at all levels understand this navigation & help diversify the talent pool for such opportunities. Jointly organized by the U.S. Carbon Cycle Science Program & Earth Science Women's Network, this event will provide information on pre- & post-doctoral research grants, Early Career Awards & other federal grant opportunities. Program managers from U.S. funding agencies will provide tips for maximizing success, including pathways for accessing information & engaging with funding agencies.
---
The following event is organized by ESWN Members.
Continuing geoscience and diversity work in a changing world
Wednesday, December 14, 7:00 AM – 9:00 AM
Jillian's Metreon Center

This is a panel/Q&A event that we hope will be the beginning of a larger effort to coalesce community discussions, concerns, resources, and actions. We want to hear from you! Fill out the survey and help us determine the most important issues to address at this first meeting:
http://z.umn.edu/cgdsurvey
We as a community can weather any storm. What are the steps we can take as individuals, as institutions, as funding agencies, as private citizens, to keep science strong amidst ever-changing political landscapes? How can we support and advance the vulnerable members of our community during even higher-pressure, more-competitive times? What progress has been made in recent years and how can we build on and protect these gains? These issues affect scientists of any nationality, any party, working in any part of the world.